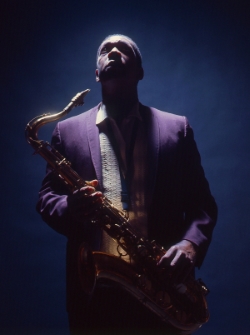 "May we never forget that in the sunshine of our lives, through the storm and after the rain – it is all with God – in all ways and forever."
~ John Coltrane (Love Supreme liner notes)
After my last post, I've remained in sort of a musical and spiritual funk.  Good days for sure but often my primary mood was more than a little somber.  I have the ability to put on a "happy face" and go about my business but only close family and friends knew the space I was really in.  I prefer it that way as it keeps me from talking about it (except for here which is like therapy for me).  The good news is I feel things changing and as usual, music comes through and creates a positive shift.
Chasing Trane is a documentary about legendary musician John William Coltrane.  The movie speaks of Coltrane's life, music and how he aspired to use his art to change the world for the better.  While for me it did not offer any new information it did provide excellent insight from many of his peers and people he inspired.  His own words and thoughts are narrated by Denzel Washington and it features comments from Benny Golson, McCoy Tyner, Wayne Shorter, Ravi Coltrane, Dr. Cornel West, Bill Clinton and many others.  There are also many photos and video footage I had never seen before.
More than anything, Coltrane's story with his body of work as a soundtrack reminded me of why I love all music but jazz specifically.  I appreciate all genres of music but there is something about the instrumental nature of jazz and it's creative nature that speaks to me very deeply.  I know I've said this before (as have many others) but music expresses what is inexpressible.  It speaks directly to that moan writhing inside your soul.  If you listen in the right space and you are open to it, – music can heal.  When I listen to Coltrane's music it moves me deeply and consistently.  It doesn't matter what space I'm in.
Since watching the documentary I have been listening to his music almost exclusively.  Thank you John Coltrane for providing that shift.  I read that he wanted his art to provide healing for people.  I can say without a shadow of a doubt that he did that for me.
PBS is streaming Chasing Trane from it's web site.  I highly recommend that you check it out when you have the time.  This link is good until 11/21/2017 but you should also be able to buy/stream the video on Amazon.