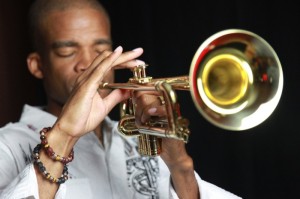 I first picked up the trumpet in 2000.  I was 30 years old at the time so I guess you can call me a late bloomer.  Most cats who pick up trumpet later in life are comeback players (played the instrument previously).  Prior to that time my only experience with an instrument was time half-heartedly spent playing clarinet and bass clarinet in elementary and high school.  I had never touched a brass instrument in my life.
I had zero experience with jazz back then.  My parents listened to a lot of different music when I was growing up but honestly I don't ever remember hearing a jazz record.  Growing into my teenage years I found myself listening to a lot of hip-hop.  Run-DMC, LL Cool J, Tribe Called Quest and others dominated my CD player and ears.  Being in the Washington, D.C. area I also listened to my fair share of Go-Go.
At some point hip-hop no longer appealed to me like it used to.  While I still consider myself a fan I reached a point where I was disconnected with what they were saying (and selling).  I found myself in musical limbo for a while until I stumbled on a CD by Ronnie Jordan called The Antidote.  For someone coming from a hip-hop background it was the perfect way to dip my toes into the waters of jazz.  I still enjoy it today.  On that CD was a remake of the Miles Davis classic – "So What."  Curiosity lead me to purchase the album Kind of Blue and I was done.  Jazz had my heart and soul.  Today I would say that 90% of my listening time is spent on jazz and nothing else.
The music grabbed me so hard that I was not content to just listen.  I had to get involved and play it.  Other than singing I had never really SERIOUSLY studied an instrument or music.  I say serious because during this journey I have come to respect the amount of work a good musician must apply to his craft.  Since Miles was the catalyst that lead me to jazz I chose the trumpet as my voice.
Why didn't I check with someone first?  Trumpet has got to be the most difficult instrument to play.  Miss a day of practice and it shows.  Progress comes in slow steps.  I endured days when I felt I could do no wrong followed by days when NOTHING worked for me.  Eventually things get somewhat consistent and I learned what to expect.  I worked my way out of the basement and played jam sessions and gigs.  I took it so much farther than I envisioned when the journey started.  It helped to have a good teacher to guide me through the process (shout out to Jon Crowley).
Life brings change.  In my case, change came in form of my son – Henry Michael.  I was 43 years old when he arrived (once again, I start something late).  The best times to get in a focused practice session were when he was sleeping.  Needless to say it's not really ideal to practice trumpet when your newborn son is resting!  I tried various devices and techniques to play without making noise but they all fell short of the joy of playing the trumpet unmuted.  All of the solutions were all stuffy (back pressure) and the sound was artificial.  I also found myself in an unusual state emotionally and spiritually – things were shifting.
R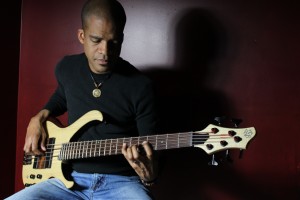 ather than quit music (not an option), I looked into another instrument – bass guitar.  In hind sight it was a very logical direction for me.  I've sung in choirs since I was 5 years old and in all cases I sang harmony parts (tenor or bass).  It pops out to me more than the melody!  Bass is also more of a supportive instrument.  It sits in the background and yet it is crucial to a band's success.  It has a way of gently guiding music in new directions without brute force.  Those qualities aligned with my personality and spirit.  As I type this, it has been months since I've touched my horn seriously and I am in complete and utter love with the bass guitar.  Could that change?  Possibly but I choose not to judge the space that I'm in.  I embrace it.
Even though music consumes my thoughts and I don't do this for a living.  By day I work as a Systems Analyst for a law firm in DC.  Web development is my specialty.  All that said, I put no limitations on where I can take this.  If skies were the limit, I see myself leading my own regular working band one day.  The things I do now are hopefully preparing me for that.  I love music and jazz so much it doesn't feel like work to wake up at 5AM so I can practice 2 hours before leaving for the office.  It also doesn't feel like work when I walk in the door after a 9-5 job and practice for another 30 to 60 minutes.  Music is therapy.  Music is meditation.  Music is life and love.  Music has saved my life and it's making me a better person.
Since starting I have developed an admiration for a lot of cats but the mainstays have been (in no particular order): Chet Baker, Jaco Pastorius, Woody Shaw, Lee Morgan, Kenny Dorham, Blue Mitchell, Freddie Hubbard, Peter Kastner, Geoff Chalmers, Paul Carr, Mike Montgomery, John Coltrane, James Jamerson, Dexter Gordon, Christian McBride, Stewart McKinsey, Paul Chambers, Pakash Wright, Sonny Rollins, Mark Egan, Donald Byrd, Scott Devine, Charlie Parker, Dizzy Gillespie, Jon Crowley, Pino Pallidino, Wayne Shorter, Dario Diedda, Bobby Beall, Gary Willis, Roy Hargrove, Terence Blanchard, Tom Williams, Todd Johnson, Ingrid Jensen, Nicholas Payton, Brice Winston and Jeremy Pelt. In their own individual way, each guides my ear and ideas right now.
Miles Davis is KING to me. There is nothing that he hasn't played that doesn't thrill me in some way regardless of if I'm playing trumpet or bass.
About this Site
This site is an online journal of my journey to learn jazz. My first entry goes back to 2002. I think I've come a long, long way since then and I hope beginners can learn from my experiences. When I first started playing it seemed like every web site was about players who had chops. No one really seemed to talk about the hard work and patience that is required to get good. My journal entries will hopefully inspire beginners to keep working hard, enjoy the process and eventually get where they want to go.
In addition to the journal I've got a section that talks about the different recordings that I enjoy and a section with photos from some of my gigs. There is also a listing of links that you might find useful and interesting.
I've had so many people help me along the way either by lessons, emails or invitations to sit in and jam. I want to take this moment to thank each and every one of you for your support and encouragement.