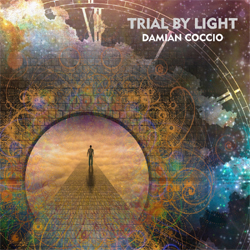 A well written song can transport you to another place and time.  Every melody, note, space and phrase can take you on a voyage into the past, present or future.  It can become a vacation and escape to be enjoyed and absorbed.  Upon several listenings, Damian Coccio's newest recording Trial by Light has provided this and much more.
The bass guitar is a relatively young instrument compared to others.  The first mass produced model was created by Leo Fender in the 1950s which places it at the tender age of about 60+ years.  It is a mere child when compared to it's big brother the double bass (which dates back to at least the 1500s).  While normally viewed as a supportive instrument it is being pushed to the foreground as a solo instrument by artists like Michael Manring, Steve Lawson and others.  Damian's Trial by Light is a great example of the evolution of the bass guitar and how very versatile it can be.
While some solo recordings can easily shift into a hey look at how fast I can play affair, Trial by Light makes song writing and aural colors the star.  Each song paints a unique picture by stimulating the ear with singable and memorable melodies.  They create a sense of adventure and mystery without becoming abstract.  "What the Storm Brought" begins the journey with a beautifully chorded introduction accented with harmonics and leads into a mellow groove.  The title track "Trial by Light" shows the ability of the bass to play both the role of support via deep bottom notes and lead with lush ringing chords.  On "Fire Interlude" Damian switches to fretless bass and takes full advantage of it's beautiful singing characteristics to deliver a hauntingly beautiful melody.  These are just a few examples but each song will truly transport you to another place and time.  The music will actually tell a unique story with each listen.  Damian has an amazing command on the instrument and the tones he coaxes from each (fretted and fretless) are nothing short of beautiful.
If you're looking for new music to inspire and transport you from where ever you are, Trial by Light will deliver.  It is a great musical start to 2016.  I can't recommend it enough.
To find out more about Damian visit his web site electrifiedbass.net.  To purchase music visit the links below:
Damian also has a host of videos on his Youtube channel that will give you a taste of his music.  Below is one of my personal favorites – "Dawn" from the Waves of Spring release.