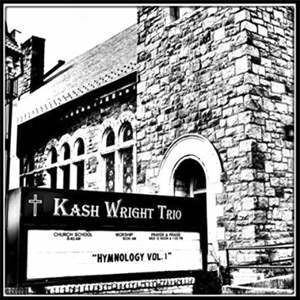 My first serious connection to music started in the church.  At the age of 5, I was singing in choirs and exposed to the sound of piano delivering rich, spirit inspired melodies.  I don't believe I'm alone in the regard.  Many vocalists have a similar upbringing and it is immediately apparent when they open their mouths to sing. In his autobiography, Miles Davis spoke of his life in Arkansas and the soulful church music that resonated along the country roads when he visited his grandfather. Miles said those sounds shaped who he became as an artist and sent him on his journey to play music.
No one would ever dispute the direct connection that exists between R&B, jazz and gospel music.  Hymnology Vol. 1 by the Kash Wright Trio embraces this marriage of genres brilliantly.  In gospel music and jazz, the offerings that I appreciate most are those that honor the roots from which the music was born.  From the first tune to the last, Hymnology Vol. 1 provides that and so much more.
The trio includes Kash Wright on piano, Mike Montgomery on bass and Bobby Beall on drums. Hymnology Vol. 1 is their third recording as a group and it shows by how well they play together.  Each member honors the importance of individuality while using their strengths to create a singular swinging unit.  At the risks of making assumptions, it sounds like these guys really enjoy creating music together.
Kash Wright wrote fantastic arrangements of tunes one would regularly hear in church and the trio executes his vision wonderfully.  The beautiful introduction on "There's A Sweet, Sweet Spirit" yields way to a light bouncing swing that sets the tone for the entire album.  Bobby Beall's solo drum work on "How Great Thou Art" could have lasted another 10 minutes.  His feel on the kit is expressive and the projected vibe of the trio is pure joy.  The band raises the energy to another level with "Jesus Loves Me, This I Know" which starts out with a playful rendition of melody before diving headfirst into swinging rhythm changes (Mike Montgomery provides a tasty solo here and his playing throughout is impeccable).  Kash's roots of playing in church become evident when listening to his intro on "What a Fellowship, What a Joy Devine" and is brought home by excellent solos by Mike and Bobby.  "Sing the Wondrous Love of Jesus, When We All Get to Heaven" serves as the perfect benediction.  The transition from burning swing to slow groove works really well.
I could easily go on but some things are best enjoyed for yourself.  I'm already looking forward to Vol. 2, but there is so much good music to digest in this recording.  Use the links below to listen to the samples available on Amazon, CD Baby and iTunes.  Highly recommended to anyone who loves jazz, gospel or is just a fan of good music.  Let the church say Amen and pass the collection plate.
Available on:
iTunes
Amazon
CD Baby
Find out more about the Kash Wright Trio here:
http://www.prakashwright.com/kash-wright-trio